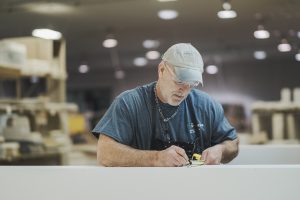 Plastika Group is looking for a molder to make masters and molds out of wood and silicone. These are used for making polyurethane faux stone panels, architectural ornaments such as columns and moldings, and other industrial products.
Main functions:
Studies technical drawings, plans and sketches to establish the specifications required for production;
Prepares layouts using measuring tools;
Measures, cuts, shapes and assembles wooden elements to form masters and molds;
Coats molds with silicone;
Uses woodworking tools such as mechanical saws, jointer-plane, shapers, planers, drills, sanders and hand tools for cutting, shaping and adjusting mold parts;
Verifies the conformity of the masters and molds with the original drawings;
Performs product assembly during peak periods (see assembly job description);
Performs other duties requested by the supervisor.
Profile:
Training and/or experience in industrial carpentry;
Knowledge of the various woodworking tools;
Ability to read plans, sketches, etc.
Personal traits:
Great dexterity, meticulous, precision
Autonomous, responsible and reliable
Punctuality and attendance
If you are interested in joining a dynamic team and have the necessary experience for the molder position, please send your CV to info@groupeplastika.com