The family owned company Plastiques GPL is pleased to reveal its new identity: Plastika Group. This company, founded in 1979 in the Vaudreuil-Soulanges region, is specialized in the manufacture and design of a variety of products in polyurethane, cellular PVC and other synthetic materials, and it is continually innovating. The name change is accompanied by a new visual identity, and a slogan summarizing Plastika Group's mission: Shape Your Ideas. The company also has a brand new website: plastikagroup.com
These changes will help to avoid confusion, thanks to a short and simple company name, as well as bringing together under one name all of the products and services offered (many previously offered under the name GPL Tradition). The company will thus serve a wider clientele starting next spring thanks to the integration of new cladding and siding products. The company's services are now offered three divisions: Ornament, Cladding, and Industrial.
This new identity also highlights the fact that the company is now in its second generation of owners. Gaétan Paiement is passing the torch to his son Sébastien and daughter Isabelle. The company will keep the same vision and the same services. The name Plastika was chosen to maintain identification with the raw material it uses, while emphasizing modernity and creativity: two properties for which plastic material is an excellent choice. The visual identity presents fresh colours that evoke both the experience and the dynamism of the company. The typeface references Plastika Group's proven flexibility and creativity, notably in the custom design of products. Finally, the new slogan, Shape Your Ideas, affirms the desire of Plastika Group to give life to the ideas and projects of its customers.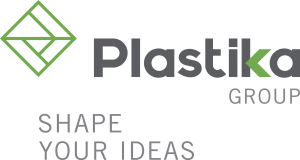 Continuing Evolution
This name change illustrates the company's intention to renew itself and to remain up to date after more than 35 years in business. Since its founding, this manufacturer has constantly adapted to the needs of integrating many new products to its line, such as cladding, in order to meet the lifestyle needs of its customers. The identity change reflects this capacity for constant innovation, one of the key values of Plastika Group.
Isabelle Paiement
Vice President
(450) 456-3409, ext 28